At Eyewearglobo Highend Eyewear Department , we always pride ourselves in choosing the right material for our glasses. in 2023 , Titanium+ is our main element.
18K Golden Plated Titanium is our top skill.,We can do gold plating, silver plating, and custom  titanium glass as requested.
What Are Titanium and Titanium Eyeglass?
Titanium is one of the most ingenious natural elements, which possesses unique properties. Titanium is ultra-lightweight, flexible, durable, hypoallergenic, and non-corrosive.
Acetate, composite and rimless sunglasses, all custom made and hand-finished for a truly personalised experience. Every frame is made with our signature durable, flexible and ultra-lightweight titanium for a remarkable comfort.Whether you prefer square or round, small or oversized sunglasses, the craftsmanship of  Our Designer Workers ensures that there is a perfect pair of glasses for your unique taste.
Titanium is a natural element with unique qualities. The metal is ultra-lightweight, durable and extremely flexible. These qualities make it possible to adjust your frame to fit your face perfectly.
What are the Advantages strengths of titanium Eyewear?
Custom Titanium Plating colours
The colouring method of a Eyewearglobo Manufacturers titanium frame is manual and highly specialised, which results in slight colour variations for every frame. Our titanium frames come in different colours. You can combine colours of front, temples and temple covers to tailor your unique pair of customised highend frames.
Professional Supply in Titanium frames+ Wood, Jewelry,Diamond Eyewear -Ready To Send Series
Business Titanium Eyewear
Titanium with Jewelry Eyewear
Titanium with wooden Eyewear
Titanium with Diamond Eyewear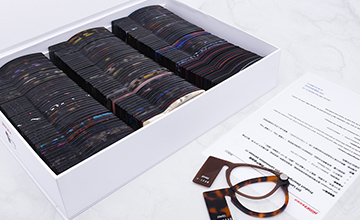 Custom Titanium Eyewear Frames with Acetate
Highend Titanium Metal Materials , IP Plated
Custom Titanium Eyewear Frames with Eco Wood
Eco Natural Wood Materails, Durable Highend Quality
Custom Titanium Eyewear Frames with Dimonds
Luxury  Diwmonds Decoration, Complexed  Titanium Framed Polish Craftswork
We have a professional glasses structure and design R & D team, has a good aesthetic glasses core concept. Our glasses are ergonomically designed to ensure that each pair of glasses can be worn comfortably,
IP plating, after up to 72 hours of sweat test, anti-allergy, anti-corrosion. Maintain gloss, do not fade for many years, do not fade.
Traceless welding: We are proficient in the welding technology of titanium metal, and can produce high-end titanium frames. Welding without marks, perfect connection, no miscellaneous points. What you get are boutique frames with perfect details
 Get Latest Highend Titanium +Glasses Catalogues from eyewearglobo@foxmail.com